It's St. Patrick's Day. I had no choice but to talk about Irish whiskey.

Paddy's Old Irish Whiskey. Let's talk about how the Irish whiskey got its name, where it's distilled, what you can expect from the taste, paddying, and finally, drink recipes.
THE MAN BEHIND THE NAME
Patrick J. O' Flaherty, otherwise known as Paddy or even Paddy Flaherty, is the infamous man behind the name of Paddy's Old Irish Whiskey. In 1877, before it was known as Paddy's Irish Whiskey, the bottle was better known as Cork Distilleries Co., Old Irish Whiskey. Try saying that five times fast!
The Cork Distilleries Company hired Paddy to be a traveling salesman. He traveled from pub to pub and sold bottles of Irish whiskey, all over the country of Ireland.
He was good at his craft and his craft was selling and drawing people in with his kindness. He was outgoing and charismatic. He was generous. The crowd had no choice but to gravitate towards him and his charm. He could make the crowd howl in laughter. He bought rounds for pub customers. He was sharp, quick-witted, and made great conversation. He was loved by everyone, universally! People bought Paddy's Irish Whiskey because Paddy was selling it.
It wasn't long after that Paddy became well-known around Ireland. He traveled several different ways: by foot, by train, by buggy, and by horse. Customers had no choice but to affiliate the whiskey with Paddy.
You couldn't think of Paddy's Irish Whiskey without thinking of Paddy himself.
After selling the Irish whiskey for more than four decades, the Cork Distilleries company decided to pay tribute to Paddy and put his name on the label.
COUNTY CORK AND IRISH WHISKEYS
Paddy's Irish Whiskey is distilled in County Cork, Ireland.
However, Paddy's Old Irish Whiskey is not the only whiskey that's made in County Cork. Many other Irish whiskey makers and competitors are based in the area. Some may even sound very familiar.
Does Jameson Irish Whiskey sound familiar? It should since there are many claims it's the best Irish whiskey on the market. Jameson Irish Whiskey was originally distilled in Dublin before they moved the process to New Midleton in County Cork.
Many Irish distillers have set up shop in County Cork. Some include the distillers responsible for Tullamore and Hyde, as well as Spot Whiskey and Redbreast.
NOSE, TASTE, AND APPROACH
Triple distilled in oaken casts with a distinctive blend, Paddy's Old Irish whiskey is aged for up to seven years, developing a complexity of different notes. It's nutty. It's woody. It's spicy. The overall taste is light and approachable with hints of honey and vanilla; however, it's also distinct and crisp with a malty, charred character.
Paddy's takes on three different classic approaches to their distillation. The grain provides a subtle, floral sweetness. Second, the malt gives it a note of a toasty biscuit. Third, the pot-still is responsible for that classic Irish creaminess. If you sip slowly, you'll taste the three unique qualities.
The finish is slightly sweet, mellow, and mildly woody.
Altogether, it's smooth, approachable, and at a reasonable price! If you're looking for something easy to drink, you won't go wrong with Paddy's Old Irish Whiskey. Your palate will be pleased.
PADDYING
I had to mention paddying. Paddy was the reason and inspiration behind the term paddying. "Paddying" refers to the act of being around great company, telling stories, and enjoying some Paddy's. The whiskey was always meant to be session spirit, meant to be enjoyed with friends. Paddy himself was always paddying about, from pub to pub, gathering crowds.
Here's your sign. Gather your friends, grab a bottle, tell stories, and laugh!
So, shall we paddy?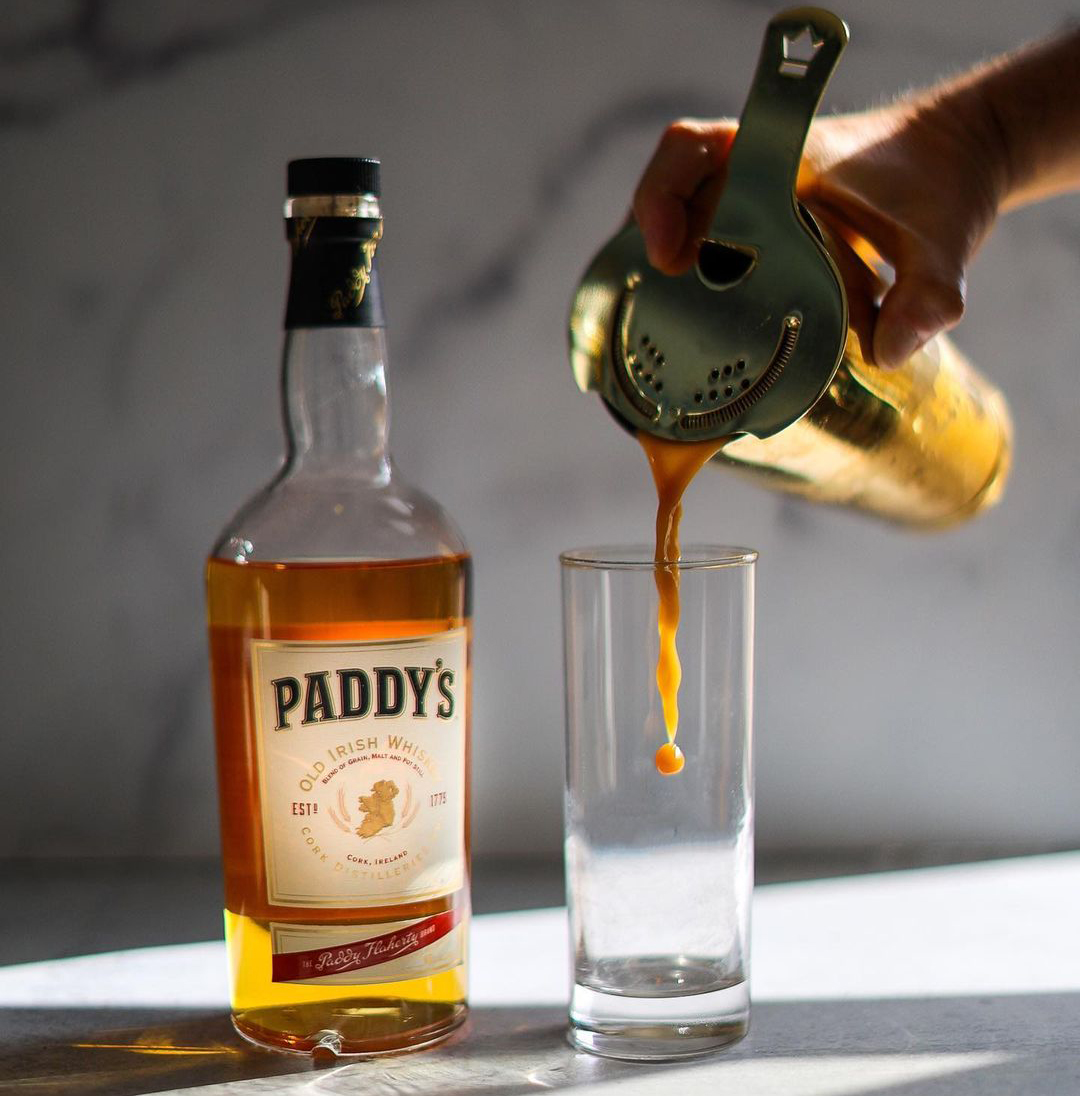 RECIPES
We've got you covered on the recipe front. Here are some Paddy's Irish Whiskey recipes for a classic Irish Mule, a Ginger Paddy, an Irish Coffee, and finally, a Paddy Sour.
If you're not fond of cocktails, feel free to enjoy a glass neat or on the rocks. Or just, you know, take a shot!
IRISH MULE
Here's a Paddy's Irish Whiskey take on an Irish Mule. It's simple, easy, and refreshing.
You'll need:
1 part Paddy's
1 part ginger beer
1 part lime juice
Ice
Start with a copper mug because you can't drink a mule without a copper mug. It just won't taste the same. Fill your mug with ice and pour your equal parts of Paddy's and ginger beer. Finish off with some lime juice and garnish with a sprig of mint
GINGER PADDY
This one is simple and revitalizing!
You'll need:
1 part Paddy's
2 parts ginger ale
Ice
Fill your glass with ice and pour in your whiskey and ginger ale. Pop in a slice of lemon! Enjoy!
IRISH COFFEE
There's just something about whiskey and coffee. It's a combination that can't be beaten.
Here's what you'll need:
1 part Paddy's
1 cup coffee
1 tbsp sugar (preferably brown sugar)
Whipped cream
Nutmeg
Fill a mug with a cup of freshly brewed coffee. Add sugar and wait till dissolved. Finally, add your whiskey and stir. Top off with whipped cream and a sprinkle of nutmeg. Enjoy!
PADDY SOUR
An Irish Sour but Paddy-ified.
Start with:
2 oz Paddy's
3/4 oz lemon juice
1/2 oz simple syrup
1/2 egg white
Bitters
Orange peel
Add your Paddy's, lemon juice, simple syrup, and egg white into a shaker without ice. Shake for 3o seconds. Then, add ice and continue shaking. Strain slowly into a glass to get the optimal egg white foam. Garnish with bitters and an orange peel. Enjoy!
So, what do you think of Paddy Flaherty? Did the Cork Distilleries Company make the right move by putting Paddy on the label? I'd say so. After all, Paddy may have been the greatest salesman ever.
Try a bottle and drink to Paddy!