These breezy summer wines are mouthwateringly refreshing and perfect for warm weather!
Imagine the following situation: Summer is in full swing. Your neighbor is hosting a BBQ and because you're always talking about how much you love wine, they tap you to bring the wine. Panic sets in. So many palates to please! So many different types of drinkers! How will you satisfy them all? Before you go into panic mode, take a deep breath. Finding the best wines for summer is a lot easier than you think.
The hot, sun-filled days of summer call for a specific kind of wine: light bodied, low tannins, highly acidic and full of bright fruit. The best summer wines are refreshing, easy-drinking, and have the ability to be enjoyed by just about every palate. They should even be enjoyed by those friends that claim they "don't like wine".
The next time someone asks you to bring a few bottles of wine to that summer gathering, check out this helpful list of the best wines for summer that are sure to please even the pickiest drinkers.
Pét-nats
Pétillant Naturel, or pét-nats, are universally loved by those that try them, and that makes sense because, honestly, there's a lot to love. These fun sparkling wines are low in alcohol, high in fruit, and so, so versatile. Pét-nats are a great way to start a summer meal, end a summer meal, or simply enjoy in the backyard with friends, sans a meal.
Winemakers love pét-nats because they can experiment with just about any kind of grape to make them: Albariño, Chenin Blanc, Trousseau, St. Laurent - you name it, they've probably tried making it.
As if pét-nats couldn't get any cooler, most are sealed with a humble crown cap. Yes, we're talking about the ultra casual crown caps used on bottled sodas and beer. An added bonus for pét-nats: these low alcohol wines almost always have colorful, showy label art, making them a win with those that have active social media accounts and want to share with the world what they're drinking this summer.
Chillable Reds
Your friends that say they don't like wine will love chillable reds, the clever moniker given to these fruit-forward, crunchy, mouthwateringly acidic wines that are, in a word, exceptionally "chuggable".
As the name implies, chillable reds are served at a temperature traditionally reserved for white wines. Because chillable reds are often made by up-and-coming winemakers, there's quite a bit of experimentation that goes into the grape selection for this wine. Like the aforementioned pét-nats, there's no one type of grape used. Regardless of the varietal, the grapes must be acidic and full of bright fruit. Carignan, Cinsault, Frappato, Gamay, and Grenache are all winemaker favorites.
These easy drinking red wines are great for long summer days because they're lower in alcohol (9-11%, on average), and pair well with foods as varied as burgers and pizza, or lighter bistro fare. And, the average bottle hovers around $20, making it a great summer wine if you're buying for a crowd.
Rosé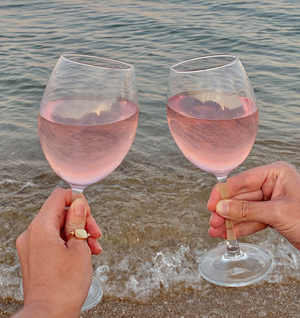 It's hard to talk about summer wine without mentioning rosé, which has, for decades, been considered the king of warm weather wine. Afterall, is there anything more popular than poolside rosé in the summer?
Part of rosé's popularity is that there's a style for every type of wine drinker. Depending on the grape, and the winemaker, rosé's range from bone-dry, to acidic, to sweet and creamy, steely, or savory. Bottles with notes of strawberries, cotton candy, and raspberries, share space with producers that create fresh, clean and mineral-driven wines.
And, depending on the amount of skin contact, rosé can be everything from pale pink, to salmon, to magenta red. The range of options for rosé really is endless. It's hard to dethrone rosé as one of the best wines for summer for the simple fact that it appeals to so many palates.
Sauvignon Blanc
If you ask a seasoned wine drinker to name a few of their go-to white summer wines, there's a good chance Sauvignon Blanc will be at the top of the list. It's light, refreshing, and goes great with summer seafood and salad dishes.
Sauvignon Blanc hails from France, but is widely planted in both warm and cool climates, including: New Zealand, Chile, Oregon, and California, just to name a few.
If you want to try a Sauvignon Blanc from the US, you can't go wrong with a bottle from California. They're known for bright acidity, zesty citrus, and tropical fruit. For leaner, grassy wines, try a bottle from New Zealand.
With it's fresh, acidic and crisp profile, Sauvignon Blanc is made for summer sipping.
Canned
Summer is all about leaving the house, getting outdoors, going to the lake, that concert in the park or a neighborhood BBQ. When you're on the go, transporting bottles can get a little tricky. Let's face it, taking bottles to somewhere like the beach (glass and sand are one of the worst combinations ever) is hard.
And, raise your hand if you've ever brought bottles to a group gathering and forgot the bottle opener - or the glasses! With canned wine, you just pop the top and enjoy! How's that for easy summer drinking?
Canned wine has an undeserved bad reputation. Some wine drinkers scoff at anything that's not bottled in glass and sealed with a cork. But with more and more young winemakers trying to appeal to different palates, the quality of canned wines continues to rise. Serious wineries like Broc, Ryme, Old Westminster, even Decoy, from the Duckhorn brand, are all getting the canned wine treatment.
Final Thoughts
The next time your neighbor asks you to bring over a few bottles of wine, have no fear. These summer wines are guaranteed to be a hit at your next party!