7th February, 2022
Let's Talk About Pineapple Wine
Hula O Maui
maui blanc
maui splash
Maui Wine
maui winery
mauiwine
Pineapple Wine
Pineapples are king, the king of fruit, that is. And if you are searching for something a little different in the wine department, something wildly refreshing, maybe it is time to consider pineapple wine.
We can't talk about pineapple wine without bringing MauiWine into the discussion. MauiWine is famous for its unique pineapple wine made in Upcountry Maui, on the slopes of a dormant volcano. MauiWine began in 1974, but their pineapple wine did not debut until three years later. The three pineapple wines are Maui Splash, Maui Blanc, and Hula O Maui. People argue that it is the best pineapple wine on the market.
MauiWine never set out to make pineapple wine. It was unexpected from the very start. While waiting for their grapes to mature, they decided to practice with some pineapples. They used Maui Gold pineapples, extra sweet pineapples with lower acidity. There was an abundance of them. They released a small batch, and since the reaction was promising, pineapple wine quickly became a staple. Now, the pineapple wines are the majority of production at MauiWine.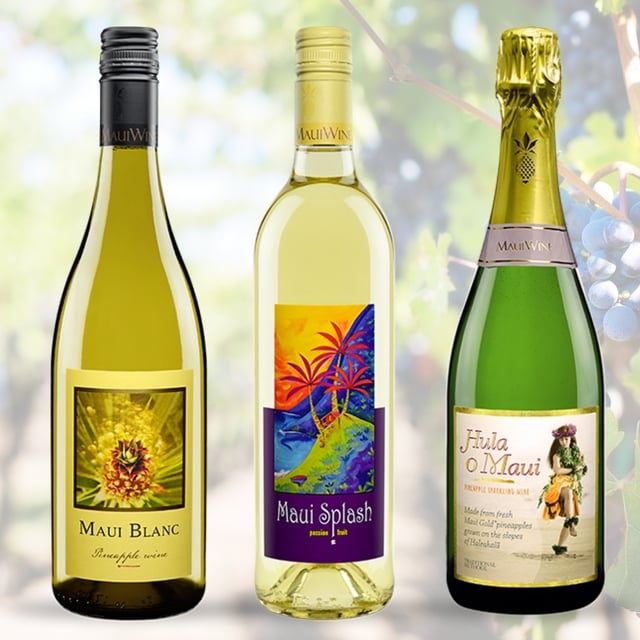 MAUI SPLASH
Maui Splash has been on quite the journey since its start. Maui Splash was not always a wine. It started as a bar mixer and paired well with lemon and lime soft drinks. After some adjustments, Maui Splash was able to stand alone. Now, Maui Splash is a sweet pineapple wine with a subtle touch of passion fruit.
The fermentation process takes two weeks in stainless steel tanks. After fermenting, the wine is racked, filtered, aged, and finished for 12 to 16 weeks. The passion fruit is added at the very end.
MAUI BLANC
Next, we have Maui Blanc, a crisp and lively wine that sets itself apart from the sweetness of Maui Splash. It is an off-dry pineapple wine that has a classic and tropical taste. The Maui Gold pineapples chosen are specific to the crisp and clean flavor of Maui Blanc.
The process is identical to Maui Splash. It takes two weeks to ferment in stainless steel tanks, and the rest of the process takes 12 to 16 weeks.
HULA O MAUI
And finally, the most unique of them all, Hula O Maui. Hula O Maui made its debut on the 20th anniversary of MauiWine. Hula O Maui started small to see how it would be perceived. With 100 cases on their first run, they sold out in a month. Now, the wine is in constant demand. Under-ripe pineapples are singled out for the Hula O Maui, creating a dry and lively wine.
Hula O Maui is aged longer than Maui Splash and Maui Blanc. It is aged 6 to 8 months, long enough to develop texture and short enough to maintain freshness.
And there you have it. Add MauiWine to your list and indulge in some pineapple wine. It's easy to enjoy!