Redbreast, from its humble beginning as a wine merchant, has become of the most beloved and renowned whiskey makers in the world and prides itself on being a high quality whiskey for those "in the know". This Irish distillery's product is held as the most perfected expression of pot still-style whiskey and is the largest selling pot still whiskey in the world. Though pot still whiskey was once the most prominent style of whiskey, it fell out of favor in the 20th century and many Irish whiskies were reformulated as blends to keep up with the Scotch whisky market. But not Redbreast, they remained one of the only pot still distilleries in the country, like its namesake bird hunkering down to survive through an Irish winter. Redbreast continued to sell their own whiskey successfully until the 1980's, when the company was sold to Irish Distillers, the largest manufacturer of Irish whiskey. There, its production was moved from Dublin to Cork, as one of the many whiskies produced at the Middleton Distillery. In the 1990's Irish Distillers relaunched Redbreast with its 12 year pot still whiskey and opened the newest and most successful chapter of Redbreast's history. Soon the 12 year was joined by 4 other permanent members of the bottling family as well as a few limited released that are now sought after collector's items. All of these expressions have gone on to win multiple accolades and positive reviews, going so far as being names the second best whiskey in the world.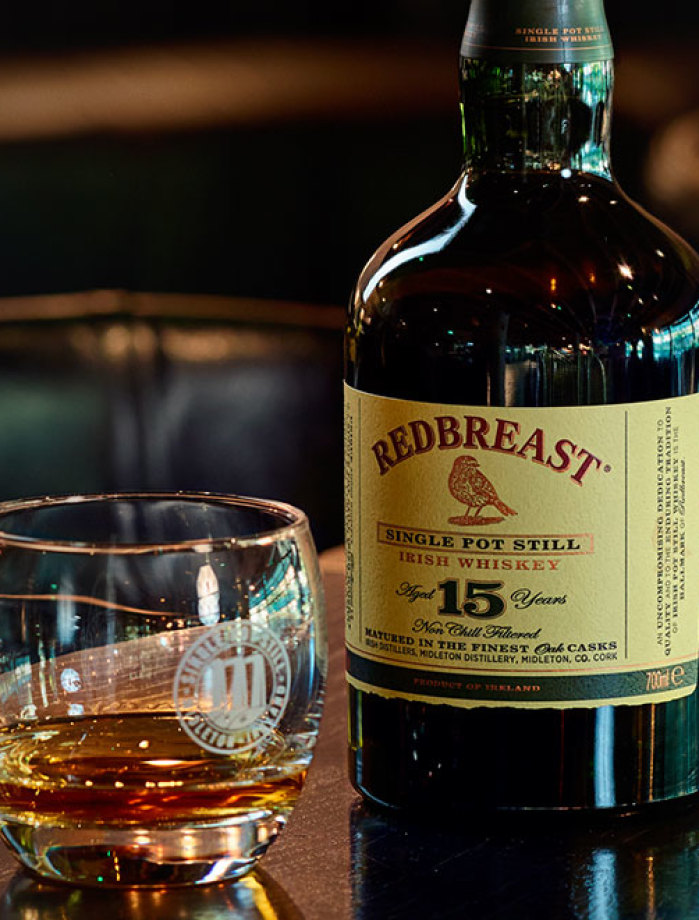 See the regular bottlings below.
Redbreast 12 - Full of aroma, smooth, and flavor, Redbreast 12 Year Old benefits from a strong contribution from distillates which have matured in Oloroso sherry casks, giving it its trademark Christmas cake character. This expression can also be found in a cask strength version.
Redbreast 15 - Originally a limited edition created exclusively for La Maison du Whisky in Paris, now a permanent member of the family. The extra years in the barrel have given Redbreast 15 Year Old a more mellow taste profile than its younger sibling, Redbreast 12 Year Old.
Redbreast Lustau - Redbreast Sherry Finish Lustau Edition was born of a unique collaboration between the Bodegas Lustau and the Midleton Distillery thanks to an old friendship. Redbreast Lustau Edition is initially matured in traditional bourbon and sherry casks for a period of 9-12 years. It is then finished for 1 additional year in first fill hand selected sherry butts that have been seasoned with the finest Oloroso sherry from the prestigious Bodegas Lustau in Jerez, Spain.
Redbreast 21 - Redbreast 21 Year Old is the finest representation of the signature Redbreast sherry style - it is the oldest and richest permanent expression available. The 21 year ageing process introduces new levels of depth, flavor and taste to create an inherently complex and ultimately rewarding whiskey.