8th October, 2019
The History of Oktoberfest
beer
german beer
germany
oktoberfest
Oktoberfest is the largest folk and beer festival in the world and it is held over a two-week period between the months of September and October every year in Munich, Germany.
This much-anticipated festival draws an estimated six million guests who enjoy the various sights, sounds, smells and of course, millions upon millions of liters of beer, as well as thousands of pounds of grilled meats, just to name one of the many gastronomic treats that can be enjoyed at this famed event.
While Oktoberfest attracts its fair share of beer-swigging, meat-eating locals who proudly meander through the festival grounds in dirndls and lederhosen, the event is actually one of Munich's largest and most profitable tourist attractions, bringing in an estimated profit of 450 million euros every year.
The event kicks off at noon of the second to the last Saturday of September when none other than the mayor of Munich knocks the very first barrel over at the Schottenhamel Tent, proclaiming, "O'zapft is," which means, "it's open." The very last day of this event happens on the first Sunday of October right after the celebration of German Unity Day.
This year marks the 212th celebration of Oktoberfest. It starts on September 21 and then, ends on October 6.
You might be asking: how and where did this beloved festival first get its start? Read on to find out.
The Origin of Oktoberfest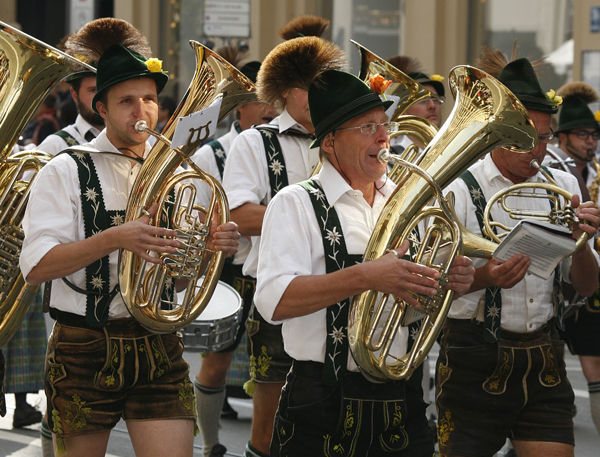 This yearly tradition began in 1810 to commemorate the wedding of Bavarian Crown Prince Ludwig and Saxon-Hildburghausen Princess Therese. It was such a grand affair that residents of Munich were enjoined to take part in the festivities that were staged on the fields right in front of the city gates.
The event began on the day of the wedding — October 12 — and ended on October 17 with an exhilarating horse race. Overjoyed by the experience, the royal couple decided that the celebration should be repeated year after year, in much grander fashion.
The people were all too happy to oblige to the couple's wishes as subsequent celebrations featured an agricultural show, a carousel, climbing and eating contests and all kinds of races. Soon after, mechanical rides were featured including a rollercoaster in 1908, which was a first in Germany. The city soon permitted beer on the fair's grounds and not long after, makeshift beer stands started growing in number until beer halls were finally set up in 1896.
The festival then became much longer and was transferred to late September to take advantage of better weather conditions. The past two centuries have seen Oktoberfest get canceled a total of 24 times because of various reasons which include a cholera epidemic, disasters, and war.
Most of the year, the fair's grounds function as a public park. It is in June that activities start ramping up as different groups begin the construction process in the hopes of finishing in time for the start of the festival.
The fields have actually been bestowed with the name Theresienwiese which means "Theresa's fields" to honor the Crown Princess. However, as most locals do, they just abbreviate it, instead calling it Wies'n.
Oktoberfest is an experience unlike any other, with various sights and sounds to partake in. Arguably, the highlight of this festival is the beer and the food that is tantalizingly served up in all manners and forms. Find out what these are by reading below.
What Types of Beer and Food Do People Enjoy During Oktoberfest?
Oktoberfest is famously known to be a beer festival and for good reason! In all, 14 beer tents can be found on the fairgrounds that are serving brew by the liter. From the 14, there are six humongous tents that serve beer to a whopping 12,000 people each day during the festival. Only six breweries, all of which come from Munich, are allowed to serve beer during the event.
The beer served during Oktoberfest is called Märzen, which is darker in color and packs more punch than your usual brew as it has an alcohol content that goes up as high as 6%. Märzen can be had for anywhere between nine and 10 euros. Impressively, beer maids can be seen carrying 10 of these at a time all throughout the fairgrounds.
Prior to advancements made in the beer-brewing industry, this specific kind of beer started brewing in March and was aged all through the summer season so that it would be ready by the time Oktoberfest rolled around.
It is often said that Germans know their beer and the Märzen is a fine example of that notion. It is brewed according to ridiculously meticulous German standards referred to as Reinheitsgebot. This set of beer-brewing regulations, which has been enforced since 1516, accurately determines just how much hops, barley, yeast, and malt is allowed during the brewing process.
To find some authentic Munich beer for your own Oktoberfest celebration, check our Hofbrau Beer and Hofbrau Hefe Weizen.
Apart from the beer, an insane amount of food is also consumed during Oktoberfest. This includes the acclaimed Hendl, which are whole chickens that are grilled over a spit and served in half portions. There are also duck and goose versions of this particular recipe.
Oktoberfest is a meat lover's dream with all kinds of roasted meats being served up, especially pork, which comes with Blaukohl — potato dumplings garnished with red cabbage and apples. There is also a wide selection of local favorites that can be found at the fair like the Bavarian Weißwürste, which are steamed veal sausages that come with sweet mustard.
Guests who are in the mood for some seafood fare can fill their bellies with this dish called the Steckerlfisch, which is fish-on-a-stick that has been roasted over charcoal.
Vegetarians need not worry about starving as there are many tents serving potato salad or soup, ambrosial pretzels, and cheese plates. Guests that have a sweet tooth are sure to enjoy themselves with desserts such as the Dampfnudel, which is a steamed dumpling filled with honey and paired with vanilla, and the Kaiserschmarrn, a pancake sprinkled with sugar and served with raisins.
Oktoberfest has become so beloved that it has spawned celebrations outside of Munich, Germany. Where are these celebrations held? Continue reading and find out below.
Where Else is Oktoberfest Celebrated?
Oktoberfest has since inspired similar celebrations held in other parts of the world. However, the biggest one happens every year in the cities of Kitchener and Waterloo up in Canada. The largest Oktoberfest celebration in the United States happens in Cincinnati in Ohio, called Zinzinnati, where an estimated 500,000 guests converge for a rocking good time.