8th November, 2021
New Wines to Try for Fall 2021
wine
wine selection
wines for fall
The leaves change color, the weather gets cooler, and the food gets heartier. Welcome to fall!
When fall arrives, it ushers in a whole new style of wine. Gone are the glou-glou chillable reds, the mouthwateringly refreshing whites that are crisper than hotel sheets. You know the type: wines that make already wonderful hot summer days even better. When considering what wines to drink this fall, consider wines that will hold their own with heavier meals on brisk autumn nights. Wines that have some structure, depth, body, and won't overwhelm your palate.
If you're looking for a few unexpected wines to try this season, or you're hosting a fall gathering with hard-to-impress friends, checkout this list of top five wines for fall!
Cabernet Franc (Cab Franc)
When it comes to fall wines, Cab Franc is a reliable favorite. Wines made from Cab Franc, which is actually the parent to both Cabernet Sauvignon and Merlot, are aromatic, have soft notes of red fruit like raspberries and strawberries, and herbaceous mint notes. Interestingly, Cab Francs also exhibit qualities of fresh bell peppers, which is caused by a compound called methoxypyrazines or, simply, "pyrazines".
Cab Franc's higher acidity level and medium body means it loves to be paired with equally acidic dishes like tomato-based pastas, rich game meats, or pork tenderloin.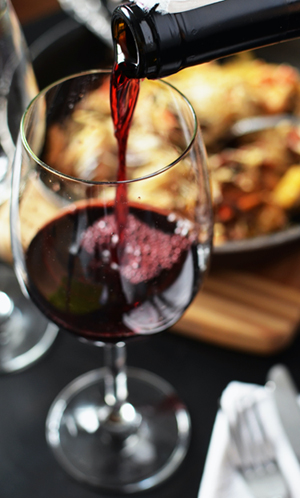 Cool Climate Syrah
For those that aren't quite ready to give up their lighter red wines during the fall, meet your new favorite autumn wine: cool climate Syrah.
Cool climate Syrahs hail from areas like California's Sonoma and Central Coast, or Northern Rhone. Unlike their counterparts from warmer regions like Paso Robles or Southern Rhone, cool climate Syrahs tend to be elegant, acidic, and have lower alcohol levels.
These wines are excellent fall wines due to their understated, earthy complexity, noticeable body, and notes of gentle spice. In other words, this is an adaptable wine: it's food friendly, but also cozy-up-to-the-fireplace friendly.
Mondeuse
With it's bold purplish-red color, Mondeuse is a French wine that has the look of a moody, fall wine. A glass of Mondeuse is a little taking a walk on the wild side. This somm favorite can be bright, expressing red fruits like raspberries and red currants, but also spicy (think white pepper), and contain floral notes. And, still other winemaker interpretations turn Mondeuse into a wine that's both savory and spicy. It's no wonder Mondeuse has been described as rustic, crunchy, earthy, and with brooding aromatics.
This mountain wine naturally pairs well with hearty fall favorites like meaty stews, lamb, and slow cooked beef.
St. Laurent
St. Laurent wines make the cut of interesting fall wines because this dark berried Austrian wine pairs great with rich foods. And, as wine drinkers know, fall is all about kicking your food game up a notch and settling into rib-sticking meals, that may or may not have you loosening your belt a little after dinner. Some people refer to this grape as Pinot Noir's rebel-without-a-cause cousin, because in some cases, St. Laurent presents itself as a more muscley version of the French grape.
Wines made from St. Laurent grapes are medium bodied, and have notes of black cherry, but also tobacco and baking spice. The tannins are light, the acid is noticeable, and the finish is dry. St. Laurent also makes a pretty interesting pet nat.
Viognier
No fall wine list would be complete without at least one white wine. Viognier is full-bodied, rich, creamy, and a little viscous. If you're trying to convince your Chardonnay drinking friends to try something new, serve them a glass of Viognier. They'll appreciate the similar body styles, and may find the aromatics interesting. With notes of apricot, peach, vanilla, and fall friendly spices like nutmeg and cloves, you'll wonder how your fall evenings were ever complete without Viognier.